Sveba Dahlen V42 Rack Oven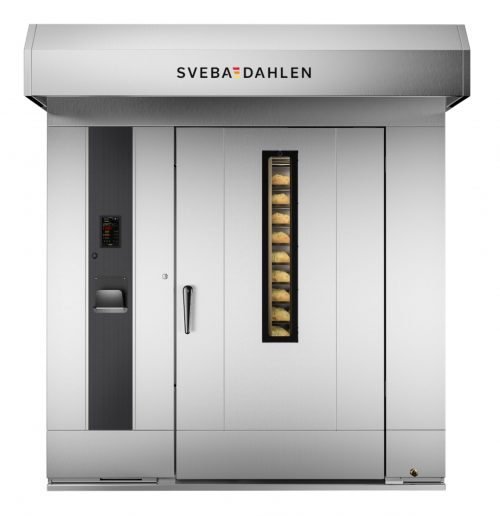 Sveba Dahlen
V42 Rack Oven
5 Year Heat Exchanger Guarantee!
Gas fired double rack oven
Electronic control panel
Control panel can be operated both manually or is programmable up to 35 recipes
One double or two single rack capacity
Rack carriage device with auto lift
Stand, overhead rack lifting and turning system rated for 1200 lbs. capacity with 2 sep. drive belts
Unit approved for zero (0) clearance to combustible surface sides and rear
All stainless steel construction
Rock wool mineral insulation throughout
"Patented" IBS rotation system
Incr. baking surface, rack rotation is alternately clockwise and counter-clockwise for uniform baking
Gentler bake with high volume and low velocity air movement via two fans
Patented cascade steam system (works without nozzles) includes stainless steel housing with aluminum rods
Flush front
Heat exchanger completely in stainless steel
Oven door to have two (2) double glazed window panes, inner pane heat reflecting. Outer pane will be top hinged to open outwards with two (2) fluorescent light bulbs for interior lighting located behind outer pane
Controls are recessed and protected
Door latch design completely in stainless material and with double lock cylinders
Damper – Linear opening/closing with small steps so that the damper opening can be regulated
Available in front or rear drain
Inside door handle release, recessed hinges and safety switches
Adjustable air slots
All service from the front and interior of oven.
Electrical Connection
Draft diverter
Draft inducer
Shipping Weight 4490 Pounds
Width 85.25 in
Depth 66.9 in
Height depends on hood type
Maximum Rot. Diameter 51.2 in
Net Weight 4300 lb
Maximum Tray Size (Single Rack) 29.5 x 39.5 in
Maximum Tray Size (Double Rack) 18 x 30 inDough Per Bake 308 lbOutput 340000 Btu/hr
Voltage (Connection 1) 120 V
Phase (Connection 1) 1
Frequency (Connection 1) 60 Hz
Branch Circuit Current (Connection 1) 15 A
Voltage (Connection 2) 208 to 240 V
Phase (Connection 2) 3
Frequency (Connection 2) 60 Hz
Branch Circuit Current (Connection 2) 15 A
Water Connection NPT 3/8 inWater Drain NPT (Front Standard, Rear Available) 1/2 in
Automatic Overpressure Damper Diameter 6.3 in
Hood Connection Diameter 10 in
Supply Air, Evacuation Steam 4 x 1-1/2 in
Flue Gas Connection Diameter 10 in
Gas Connection Diameter (NPT) 3/4 in
Available Options
2000 lbs. lift capacity
460/480 VoltsDoor/exhaust fan interlock
Electronic "Soft Start" rack rotation
Hook lift
Marine Package for Cruise Ships
Prison Package
Stainless steel platform, rather than lift
Type I Hood & Grease Filters with single point connection for roasting
Type I Hood & Grease Filters, with separate connections for canopy vent, pressure release vent, steam release / cooling damper and gas flue vent
Water pressure regulator & filter
Combustion chamber exhaust: Type "B" vent
Baking chamber exhaust, single wall vent (120 CVM)
Draft inducer is provided to maintain proper draft during burner operation
Draft inducer (shipped separate) must be installed in combustion stack above draft diverter. Installation by hvac contractor
Important: Use only Tjerlund D-3 inducer!
Sensing port of draft inducer must be connected to sensing port of proving switch (located in electrical cabinet) with 1/4″ aluminum tubing (supplied).
Draft inducer motor must be wired to relay and neutral in oven electrical cabinet. Wiring materials by others. Wiring according to local and national codes.
Check over-fire drafts and adjust to negative: .01 to .02 inches W.C. using fire chamber sight glass port during burner operation.
Type:natural gas (propane optional)
Power input:340,000 Btu/h – Natural gas (propane)
Supply pressure:5.5 – 14.00″ wc natural gas (propane)
Connection:refer to burner manual for proper maintenance, adjustments and operating instructions.
1/2″ drain connection
3/8″ water line @ 50/80 PSI water pressure
Water pressure regulator and water filter recommended (but not supplied)
Interested in this product or need more information?